TEMCo HP0000 Air Hydraulic Pump Power Pack Unit 10,000 PSI 103 in3 Cap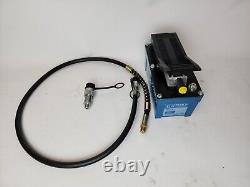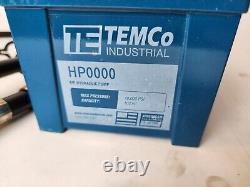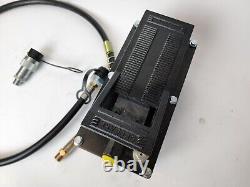 BONUS: Includes ISO 14540 Male x Female 3/8" NPT Connector (Shown Above) TEMCo ID: HP0000 Type: Air Powered Hydraulic Pump Action: Single acting Control: Foot pedal pump - Release pressure to return fluid Includes Hydraulic Hose: 5 ft with 3/8 NPT - Quick hydraulic coupler with dust cap Flow Rate: 0.85 liters (0.22 gallons) per minute Air Connection: 1/4" Female NPT Hydraulic Oil Type: AW-15 Oil Capacity: 103 in³ (1.7 liters / 1700 cc), 0.45 gallons Max Input Air Pressure: 120 PSI Max Output Hydraulic Pressure: 10,000 PSI Connector Type: 3/8 NPT ISO 14540 quick hydraulic coupler with dust cap Dimensions (LxWxH): 11.02 x 5.12 x 7.48 in. Applications Include: Heavy machinery rigging and moving Auto repair Oil rigging Machine maintenance.
Standard: ISO 14540 Thread (between male poppet end and coupling ring): M30 x 1.5 mm Thread: 3/8 NPT Occlusion Type: Poppet Rated Pressure: 10,000 psi Rated Flow: 6 GPM Sealing Material: Nitrile Rubber (Buna-N, NBR) Interchangeable With: Enerpac C-604 Parker 3000 Series Safeway S30 Series Stucchi IVHP Series Perfecting T Series Snap Tite 76 Series Dnp PVM Series Faster PVVM Series.