BESTOOL 10000PSI Air Hydraulic Pump, 1/2 Gal Reservoir Foot Actuated Hydraulic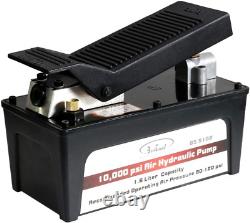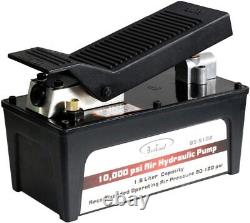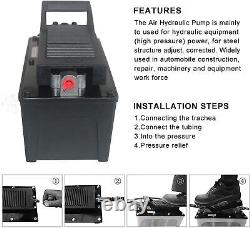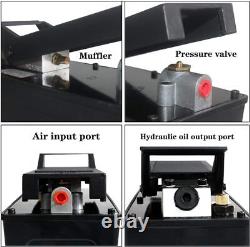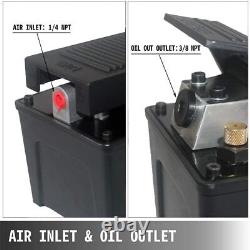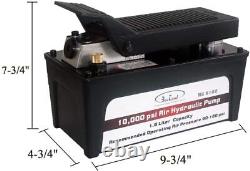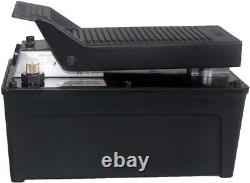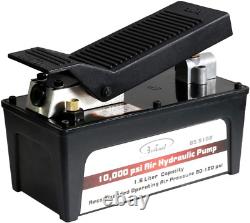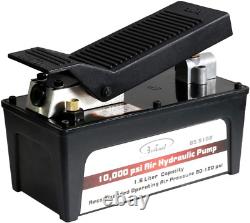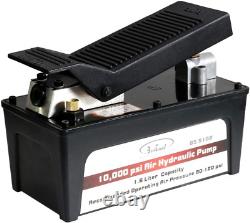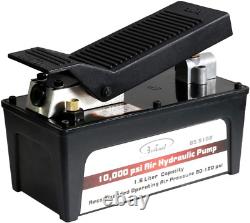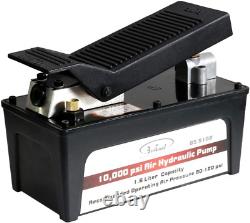 The BESTOOL Air Hydraulic Pump features an internal pressure relief valve for overload protection, ensuring oil leakage prevention and hydraulic component safety. The convenient 2-stage release mechanism enables fast or metered ram return while minimizing hydraulic shock. This air-powered hydraulic pump boasts a maximum adjustable pressure of 10,000 PSI, making it suitable for all 10-ton applications.
Constructed with a high-quality aviation aluminum pump core and a durable aluminum reservoir, our hydraulic ram pump is designed to withstand demanding industrial applications. The air over hydraulic pump features a user-friendly, foot-actuated design that allows for easy control and operation, saving time and effort with its powerful and adjustable pressure. The built-in internal relief valve safeguards the hydraulic components regardless of the hydraulic pressure.
Designed exclusively for use with single-acting cylinders, this air hydraulic foot pump efficiently operates a wide range of industrial and construction single-acting ram applications, making it a versatile and reliable power source. BESTOOL 10000 PSI Air Actuated Hydraulic Treadle Pump. Foot pedal pump - Release pressure to return fluid.
98 cubic inches/1.6 liters. Dimensions (L W H): 12"x 8.7" x 7.9. With over 15 years of garage remodeling and customizing experience.
BESTOOL Professional Garage Tools & Equipment. Has established franchise locations across the US. Our expertise in lift construction, attention to craftsmanship, market research, and refusal to utilize anything less than the highest-graded materials are unrivaled. Our top priority is to turn your complaints and suggestions into reality.
Our Focus Is On Providing You The Greatest Possible Purchasing Experience. Foot-actuated design provides hands-free operation. 3/8 NPT; flow rate of 42 cubic feet, no-load, 8.5 cubic inches, with the load.
Maximum adjustable pressure: 10,000PSI. Equipped with a more durable aluminum alloy reservoir. Complies with ASME PALD/2009 Safety Standard. Built-in internal relief valve protects the hydraulic components.
3/8 NPT oil output, safely builds to 10,000 pounds and has a built in safety overload pump saver. Its built to handle tough industrial applications. For field use on construction sites and maintenance jobs. Heavy Machinery Rigging and Moving.
10,000 PSI for Wide Application.