120 PSI 1/4NPT Air Hydraulic Pump For Auto Body Frame Machines and Pulling Post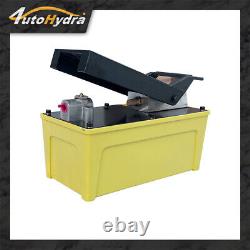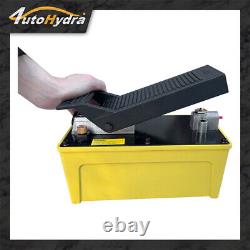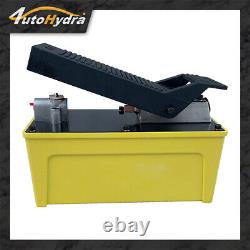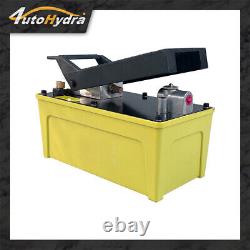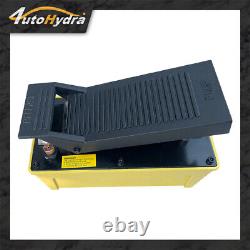 Output oil: 98 cubic inches/1.6 liters. Fuel tank capacity:1.6L. Output oil hole: 3/8NPTF connection. Max Input Air Pressure: 120 PSI.
Max Output Hydraulic Pressure: 10,000 PSI. The air-hydraulic pump adopts a humanized pedal design, providing hands-free operation to pump and release the load, with strong power and high output pressure, saving the operator's time and energy. The convenient two-stage release mechanism allows the plunger to return quickly or metered, while reducing the hydraulic impact.
This pneumatic hydraulic foot pump has aviation aluminum pump core and high-quality metal shell, which can handle difficult industrial applications. The 1.6-litre fuel tank has a large capacity, with 98 cubic inches/1.6 liters of output oil.
Built-in internal overflow valve can protect hydraulic components regardless of hydraulic pressure. This hydraulic air pump is equipped with a 1m/3ft high pressure oil pipe, with dual protection of embedded steel wire and thickened outer layer. The oil port is made of cast steel, which is durable and reliable, and there is no need to worry about oil leakage. This high-pressure hydraulic pneumatic pump is only designed for single-acting cylinder, which can effectively operate single-acting plunger applications in many industrial and construction industries.
It is an ideal all-purpose power source and an excellent device for various plungers, presses and hydraulic tension machines, with a working pressure of up to 10000 PSI. If you have any problems, please contact the customer service. We will solve them for you and be responsible for you. Don't open the return at will or choose the wrong reason for return, and don't leave bad comments at will. We believe we can solve it for you.