Taixinhyd Air Hydraulic Pump 10,000 PSI 10 Ton Porta Power Hydraulic Air Foot P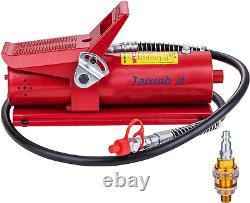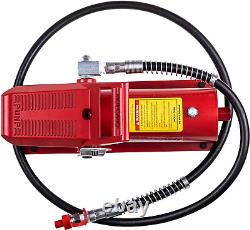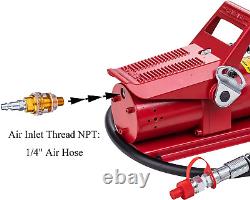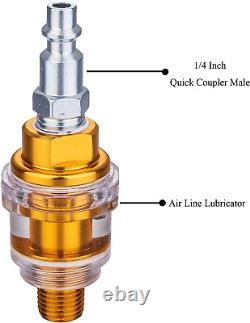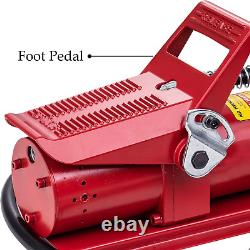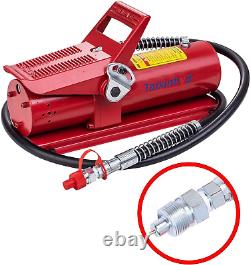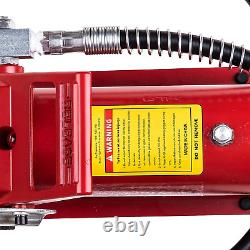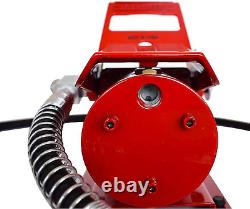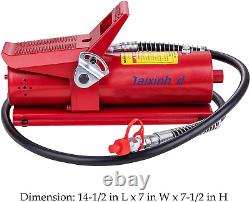 We do not accept P. BOXES - PLEASE PROVIDE A PHYSICAL ADDRESS.
We advise you to use a reputable carrier service when returning your goods. Please check the Voltage information and make sure it matches the one in your country. In case it's not stated in the description, do ask us. We guarantee that your issue will be solved quickly.
We usually respond within 24 hours on weekdays. This Air Hydraulic Pump is10 Ton Foot Control Hydraulic Air Foot Pump Which Is Designed For Use With Single Action Cylinders And Tools. You can operate this Air hydraulic pump treadle with hand or foot as you like.
Specification: Color: Red Weight: About 20 Lb Oil Capacity: 42 Cu. Air Inlet Thread NPT: 1/4 Oil Hose I. Size: 1/4", Oil Tube with Coupler: Length 5.9 Ft, 1/4" Rated Pressure: 10,000 Psi (700 Bar) Air Pressure: 102 -120 PSI Air Consumption: 10 CFM Oil Flow At 100 Psi Air Pressure: 30 Cu. At 0 Bar 8 Cu.
At 10,000 Psi 130cc/Min. At 700 Bar Feature: Sturdy and DurableThe air hydraulic foot pump comes with high quality construction, it is sturdy and durable to use for a long time. Meanwhile, it is easy to maintenance, there is no need for you to change parts frequently. Automatic Overload Valve ProtectsThe maximum adjustable pressure of the hydraulic foot pump is up to 10,000PSI. And it has a built in safety overload pump saver to protect hydraulic system components from being affected by air pressure.
Smoothly OperationThe air hydraulic foot pump is designed with pedal function. It can be operated by hand or foot to control air and valves. In addition, swivel connection simplifies hydraulic connection and operation.
Widely UsedThe air hydraulic pump is mainly to use for hydraulic equipment (high pressure) power, for steel structure adjust, corrected. Widely used in automobile construction, repair, machinery and equipment work force. Accessories completeWith our clear and brief instruction, you can operate it simply and safely without anyone's help. What's more, all the parts you need are in the package.
Note: Check your air pressure before operating. Do not use pump if your pressure exceeds 120P. Normal operating pressure if from 100 to 120 PSI.
It is very important to confirm the position of the foot pedal before us. Taixinhyd Air Hydraulic Pump 10,000 PSI 10 Ton Porta Power Hydraulic Air Foot P.